TOLL-FREE BRIDGE TO GOD
LORD(800) JESUS(888)
Lord Jesus is the Toll-Free Bridge over sin that separates man from Jehovah God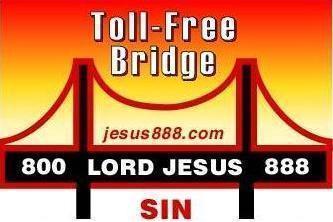 ---
Sin Separates man from God [ sin, the gap between man and God]
Romans 3:23 " For all have sinned, and come short of the glory of God."
Romans 5:12 " Wherefore, as by one man sin entered into the world, and by sin; and so death passed upon all men, for that all have sinned. "
God Provided a way back to Him [Jesus, the only Way to God ]
John 3:16 " For God so loved the world, that he gave his only begotten Son, that whosoever believeth in him should not perish, but have everlasting life."
John 14:6 " Jesus saith unto him, I am the way, the truth, and the life: no man cometh unto the Father, but by me."
Romans 5:8 " But God commendeth his love towards us, in that, while we were yet sinners, Christ died for us."
Jesus Bridged the Sin Gap [ Jesus, the Bridge over sin ]
Acts 4:12 " Neither is there salvation in any other; for there is none other name under heaven given among men, whereby we must be saved."
Romans 6:23 " For the wages of sin is death ; but the gift of God is eternal life through Jesus Christ our Lord."
The Bridge to God is free [ Jesus, the Toll-Free Bridge over sin ]
Ephesians 2:8 " For by grace are ye saved through faith; and that not of yourselves: it is a gift of God:
Ephesians 2:9 " Not of works, lest any man should boast."
---

---

---
---
---
---
theservant@jesus888.com