Telephone Call from God
About two thousand years ago, a dear friend left this earth. The account of this is
found in the Bible book of Acts. In Acts 1:9NIV|KJV| chapter one, verse nine we
read "
And when he had spoken these things, while they beheld, he was taken up; and a
cloud received him out of their sight. And while they looked stedfastly toward
heaven as he went up, behold, two men stood by them in white apparel; which
also said, Ye men of Galilee, why stand ye gazing up into heaven? This same Jesus,
which is taken up from you into heaven, shall so come in like manner as ye have
seen him go into heaven". While we patiently awaits our Saviors' return, we are
told to watch and pray because he will return when we least expect. Wouldn't it
be nice if our heavenly Father would call by telephone to remind us of his Sons'
promised return ? What would the God of this universe say to an individual today?
If we have accepted his Son, he would remind us of his Sons' imminent return. If
we have not accepted the only way to him, he would tell us: Matthew 17:5
" ... This is my beloved Son, in whom I am well pleased; hear ye him".
I believe the God of the universe has spoken to both groups through the
telephone system, via the first two toll-free area codes. I would like to offer the
following, as an example of a telephone call from our fatherKJV| Jehovah God. The
words of Jesus, and about Jesus were first recorded in the Greek language. The
Greek language predates Jesus about three thousand years. The Greek alphabet is
unique ( as Hebrew) in that every letter is associated with a corresponding
numerical value. The first letter of the Greek alphabet is Alpha, and the
corresponding numerical value is one (1). The last letter is Omega,its value is eight
hundred (800 ). In the book of Revelation Jesus said ( Rev. 1:11)NIV|KJV| " Saying,
I am Alpha and Omega, the first and the last:..." For many years, a few scholars
knew that every number in the Bible had a deeper meaning than a mere
numerical value. It was not until 1966 that a deeper meaning could be seen in
these numbers. This was the year the Bell System introduced toll-free service. By
dialing 1 + 800 and a seven digit number, you could make a telephone call
without paying a fee. The person who owned the number paid for the call. In 1996
the telephone industry introduced a second toll-free area code. The second ( 888 )
area code like the first has divine significance .
Lord in the Greek language is written:


20+400+100+10+70+200 = 800
---
Jesus in the Greek language is written:


10+8+200+70+400+200 = 888
---
In 1966 our Saviors title ( Lord ) was stamped on the first toll-free area code.
Thirty years later our Saviors name was ( Jesus ) stamped on the second toll-free
area code. The significance of this should be clearly seen when we remember that
because of sin (Romans 3:23NIV|KJV| " For all have sinned, and come short of the
glory of God;" ) there was a gulf between man and God. Our Loving Father bridged
this ( John 3:16NIV|KJV| " For God so loved the world, that he gave his only
begotten Son, that who-soever believeth in him should not perish, but have
everlasting life." ) sin gap. In Romans 5:12NIV|KJV| we read, " Wherefore, as by
one man (Adam) sin entered into the world, and death by sin; and so death
passed upon all men, for that all have sinned:" Romans 5:8NIV|KJV| reads, " But
God commendeth his love towards us, in that, while we were yet sinners, Christ
died for us". John 14:6NIV|KJV| reads, "Jesus saith unto him, I am the way, the
truth, and the life; no man cometh unto the Father, but by me". Acts 4:12
NIV|KJV| reads, "Neither is there salvation in any other name under heaven
given among men, whereby we must be saved". To show our appreciation for what
God through Jesus has done for us, we would like to do something to merit this
glorious show of love. But alas we can't. We are reminded that Jesus gave his life
for us freely. In Ephesians 2:8-9NIV|KJV| we read, " For by grace are ye saved
through faith; and that not of your-selves: it is a gift of God: Not of works, least
any man should boast." Because of what God did in giving his Sons' life, Jesus can
be compared to a bridge to His father. And since salvation through Jesus is a free
gift, we can say that, " Lord Jesus is the toll-free bridge over sin that separates
man from Jehovah God." By stamping(Lord)800 , Jesus(888) on the first two
toll-free area codes, the omnipresence, omnipotent, omniscient creator and
sustainer of the universe; Jehovah God has called to reminds us of his sons'
imminent return. We are assured three times in Revelation of his quick return. We
read in Revelation 22:7NIV|KJV| " Behold, I come quickly......" At 22:12 we
readNIV|KJV| "...behold, I come quickly; and my reward is with me,..." At
22:20NIV|KJV| we read, "......surely I come quickly. Amen. Even so, come Lord
Jesus"

Greek Alphanumerical System
Click on image below to enlarge chart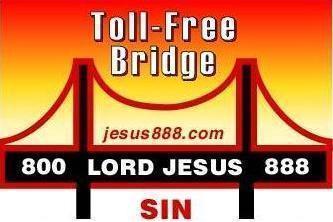 TOLL-FREE BRIDGE TO GOD