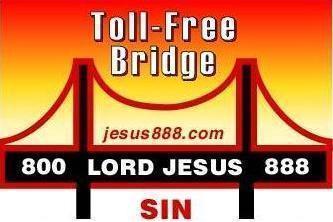 Lord Jesus is the TOLL-FREE BRIDGE over sin, that separates man from Jehovah God
° A separation resulted between man and God once Adam sinned.
°SIN BECAME THE GULF BETWEEN MAN AND GOD
l Romans 5:12 Therefore, just as sin entered the world through one man, and death through sin, and in this way death came to all men, because all sinned--( NIV )
° All descendants of Adam are born sinners.
l Romans 3:23 For all have sinned, and come short of the glory of God;
° Our destiny was eternal separation from our Heavenly Father.
l Romans 6:23 For the wages of sin [is] death; but the gift of God [is] eternal life through Jesus Christ our Lord.
° Because of His love, our Creator provided a way back to Him.
° ALMIGHTY GOD PROVIDED A BRIDGE FOR MAN.
l John 3:16 For God so loved the world, that he gave his only begotten Son, that whosoever believeth in him should not perish, but have everlasting life.
° JESUS BECAME THE BRIDGE TO THE FATHER
l Romans 5:8 But God commendeth his love toward us, in that, while we were yet sinners,Christ died for us.
° God's undeserved gift cannot be paid back , it is free.
°THE BRIDGE TO GOD IS TOLL-FREE
l Ephesians 2:8 For by grace are ye saved through faith; and that not of yourselves: [it is] the gift of God: 2:9 Not of works, lest any man should boast.
° Jesus is the only way to the Father, the only BRIDGE
l John 14:6 Jesus saith unto him, I am the way, the truth, and the life: no man cometh unto the Father, but by me.
l Acts 4:12 Neither is there salvation in any other: for there is none other name under heaven given among men, whereby we must be saved.
° We cross the BRIDGE by confession of our faith in the way to God.
l Romans 10:9 That if thou shalt confess with thy mouth the Lord Jesus, and shalt believe in thine heart that God hath raised him from the dead, thou shalt be saved.
° Lord Jesus said he was the TOLL - FREE BRIDGE [ 1 800 ]
l Revelation 1:8 I am Alpha and Omega, the beginning and the ending, saith the Lord, which is, and which was, and which is to come, the Almighty.
l Luke 1:30-31 "And the angel said unto her, Fear not, Mary: for thou hast found favour with God.
And, behold, thou shalt conceive in thy womb, and bring forth a son, and shalt call his name JESUS".
l Matthew 1: 25 "And knew her not till she had brought forth her firstborn son: and he called his name JESUS.
° Now we know why our Eternal Father made sure His son would be named JESUS. [ 8 8 8 ]
---
Exodus 6:3 "And I appeared unto Abraham, unto Isaac, and unto Jacob, by the name of God Almighty, but by my name JEHOVAH was I not known to them." [KJV]
Psalm 83:18 " That men may know that thou, whose name alone is JEHOVAH, art the most high over all the earth." [KJV]
10-2001
---
---
Greek Alphanumerical System
Click on image below to enlarge chart