THE REST OF THE STORY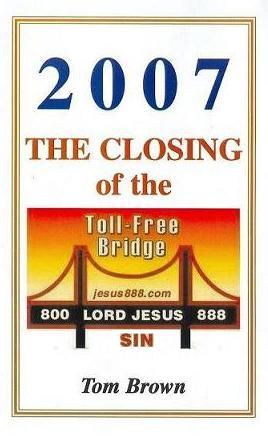 ---
When I put my web site one line in 1996, I had no idea where God was leading me.As I indicated in my personal pages, I have been inspired since 1988 to pay attention and take note of my strange experiences. In this book I tell the rest of the story. I sincerely believe 2007 will be an extraordinary year.
Today, Monday August 1, 2005 after about four months, I received a skid with fourteen cartons of my books. I was a very happy person. The journey of seventeen years has ended. There is no doubt in my mind that my foot steps were ordered by the Lord.
This book is about my spritual journey of seventeen years. The journey enabled me to see profound relationships in the 800 Toll-Free Area Code System. These relationships include connections with the title and name of Lord Jesus, John the forerunner of Jesus and the 911 incident of 2001.
---
2007: THE CLOSING of the TOLL-FREE BRIDGE
---
Sample Page
---
How to Order Book
Tom Brown
P.O. Box 301009
Jamaica, NY 11430
$ 8.00
+ 2.00 S/H
-----------------
$10.00
---
---
Postal money order or PayPal