SIN
Lord Jesus is the toll-free bridge over sin that separates man from Jehovah God.
---
In 1966 our Saviors' title ( Lord ) was stamped on the first toll-free area code. Thirty years later our Saviors
name was ( Jesus ) stamped on the second toll-free area code. The significance of this should be clearly
seen when we remember that because of sin (Romans 3:23NIV|KJV| " For all have sinned, and come
short of the glory of God;" ) there was a gulf between man and God. Our Loving Father bridged this
( John 3:16NIV|KJV| " For God so loved the world, that he gave his only begotten Son, that who-soever
believeth in him should not perish, but have everlasting life." ) sin gap. In Romans 5:12NIV|KJV| we read,
" Wherefore, as by one man (Adam) sin entered into the world, and death by sin; and so death passed
upon all men, for that all have sinned:" Romans 5:8NIV|KJV| reads, " But God commendeth his love
towards us, in that, while we were yet sinners, Christ died for us". John 14:6NIV|KJV| reads, "Jesus saith
unto him, I am the way, the truth, and the life; no man cometh unto the Father, but by me".
Acts 4:12 NIV|KJV| reads, "Neither is there salvation in any other name under heaven given among men,
whereby we must be saved". To show our appreciation for what God through Jesus has done for us, we
would like to do something to merit this glorious show of love. But alas we can't. We are reminded that
Jesus gave his life for us freely.
In Ephesians 2:8-9NIV|KJV| we read, " For by grace are ye saved through faith; and that not of
yourselves: it is a gift of God: Not of works, least any man should boast."
Because of what God did in giving his Sons' life, Jesus can be compared to a bridge to His father. And
since salvation through Jesus is a free gift, we can say that, " Lord Jesus is the toll-free bridge over sin that
separates man from Jehovah God." By stamping(Lord)800 , Jesus(888) on the first two toll-free area
codes, the omnipresence, omnipotent, omniscient creator and sustainer of the universe; Jehovah God has
called to reminds us of his sons' imminent return. We are assured three times in Revelation of his quick
return.
We read in Revelation 22:7NIV|KJV| " Behold, I come quickly......"
At 22:12 we readNIV|KJV| "...behold, I come quickly; and my reward is with me,..."
At 22:20NIV|KJV| we read, "......surely I come quickly. Amen. Even so, come Lord Jesus"

Greek Alphanumerical System
Click on image below to enlarge chart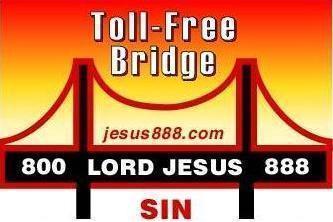 TOLL-FREE BRIDGE TO GOD